Use HoBSoft′s planning tools to plan the work-splits and quotas of your production.
Use HoBSoft′s simulation tools to point out bottlenecks in your plan as well as over capacity.
Use HoBSoft′s automatic tracking to monitor the production and compare to your execution plan.
Overview
Our system supports you, as a production manager, with various useful tools and information.
Your first step will be to enter the amount of work of every task type every company is expected to produce per day.
When the movie has been broken down into sequences, scenes, characters etc you can assign workflows.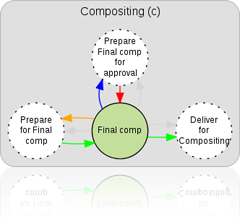 The workflows serve as a detailed computer model of the production, allowing for simulation and testing of the execution plan.
Use the simulation results to refine your plan and test it again.
Once you are in production, the system will automatically track your progress.
The progress is graphed alongside any committed planning so you can see if everything is going according to plan.
Planning
First you enter expected start and end dates for the main task types. The system will immediately reward you by showing your choices in a calendar and a gant chart.
As a production manager you must also inform the system about the amount of work you are expecting from each one of the studios. We call these amounts for capacities.
HoBSoft uses a concept with two types of capacities called "Experimental Capacities" and "Committed Capacities".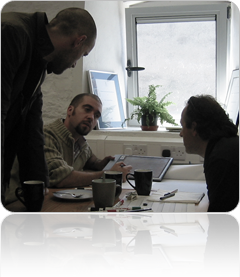 Production meeting on Brendan & the Secret of Kells, Kilkenny, Ireland.
You start by entering experimental capacities into the system. Once everyone is happy with your plan you will commit the capacities as a new plan.
During the production you may enter new experimental capacities and test them in a simulation. Once you and your partners agree to the new capacities, you commit to the new schedule.
Estimates
The production Workflow types are divided into task types.
Every task type will be assigned a unit, which will allow for measurement and simulation. The units can be anything from frames, to working hours, kilobytes or drawings.
As long as the same unit is used for task estimates and for the corresponding capacity, we can plan and simulate in any unit found.
Task estimates are usually calculated automatically based on rules like scene duration, character count or difficulty.
You can also manually type in estimates which will overrule the automatically calculated estimates.
Simulation
You can run simulations in HoBSoft. Once the production is broken down into tasks with estimates which are connected with dependencies, you have a detailed computer model of your production.
The estimates can be considered the "resources" necessary to solve the tasks and the capacities are the resources available.
The simulation will graph how much work is available to work on for any team at any time. We call this amount for the "Pile".
For tasks that are to be solved by human teams, the system will produce a warning if the pile gets below a certain selected threshold. This is an indication that the buffer is getting too small and there is a potential bottleneck.
If the pile gets too big, we may have expensive over-capacity in the previous department which should be avoided as well.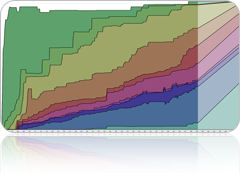 The progress of your production is reported in many different ways. Here is a progress graph showing how the production milestones are progressing.
In the case of automatic tasks, the system should preferably run out of work occasionally. For example, if your render queue can finish all jobs every night, you know that it will not be a bottleneck.
Compare plan with tracking data
HoBSoft automatically reports and graphs the recorded history for the production combined with the simulation output from the committed capacities.
When you gain experience about the various processes, during the production, you should refine the computer model with more precise estimates and capacities and run new simulations.
Communicate schedule
Not only does the system provide you, as production manager, with some useful tools and a great overview. It also helps you communicate your decisions through its web based interface.